The Big Youth Forum Meet Up!
Institute of Child Health Great Ormond Street Hospital, London
By Jennifer Hallsworth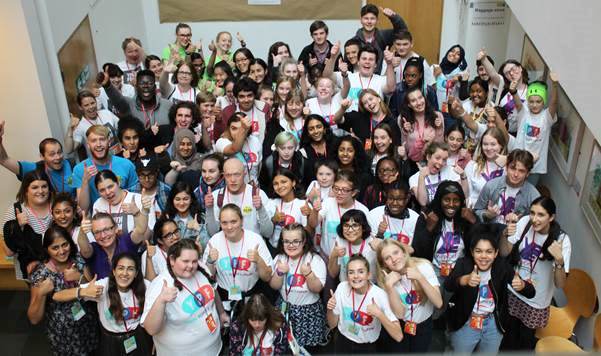 What a fantastic day!
The day started early when we met at Nottingham train station to make the journey down to London. After a short walk we arrived at the venue, where there was a quick photo opportunity, as Channel 4's Alex Brooker (comedian & presenter) was also arriving!
Once all the paperwork was done, the day began with a brief introduction and question and answer session with Alex Brooker. It was great to hear about his journey, his approach to life, opportunities he's made and why he wanted to be involved today. Oh and of course, he had the whole room full of laughter!
After a brief presentation about GOSH'S Youth Forum it was onto lunch, which was a good time to mix and speak to other people about their role and involvement.
The afternoon started with 'Share and Steal' workshops, which were one of the highlights for me. We were mixed into groups, then rotated around three different topics:  – Young people's Rights  – Practical issues  – Emotions and Wellbeing During these discussions we all had chance to comment on the topics and what our Youth Forums/Youth Services had done in relation. Plenty of questions were asked and we learnt from each other. The ideas were fab and plenty of 'borrowing' will be done I'm sure! These sessions each finished with a summary of the key points.
After a quick break (the cakes were an added surprise!) to re-fuel, it was onto our chosen activity.
I decided to go on the GOSH tour, which offered us the chance to see some of the facilities they had to offer and also told us some of the history of the hospital. The garden and chapel, along with the music factory were my favourites. They don't have a Youth Service like us though!
Other workshops that were on offer included CPR/basic first aid training and public speaking skills.
Following another quick break it was onto the final part of the day – voting and thank-you's/goodbyes.
After a final group selfie we began our journey home, having a quick look around St Pancras before our train. The architecture was incredible!
Overall it was an excellent day and I enjoyed every minute of it! It was great to meet other young people and hear about the work other Youth Forum's had done, not forgetting to share our own experiences, ideas and NUHYS' achievements as-well.
The event was very inspiring and with young people as passionate as this, about making a positive difference, services and experiences for young people in healthcare can only get better!
I can't wait for the next one – hopefully we can be the hosts during our 20th Anniversary year!